Here at the Center for Orthodontic Excellence, our commitment to protecting patient health and safety is without compromise. To this end, we are joining the collective effort in flattening the curve by encouraging all patients with routine orthodontic treatment to reschedule their appointments (609-799-4628 or info@coesmiles.com). The COE team will be seeing patients for essential and urgent matters during its normal business hours until it is determined that we can safely resume full and normal activity.
We embrace our role as orthodontic providers equally as much as members of society, and we recognize the significance of our responsibility to both ends. Our team has taken extraordinary measures to protect all those within the COE space while also being mindful of the resources we consume that are also needed by our allied healthcare providers on the frontline fighting COVID-19. The COE Team will continue to operate on insightful and reasoned decisions in these dynamic days with only the greater good as its focus.
These are unprecedented and unscripted times, and it is a moment to demonstrate the power of a global effort and show its true and remarkable strength. While social distancing can keep us from spreading the virus, love and compassion can freely flow across borders to bind us all more tightly than ever. Keeping all those affected in our thoughts and prayers and wishing everyone safety and health. One love all.
---
We'll Save Your Place In Line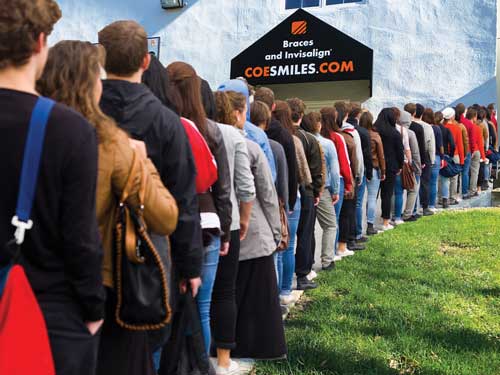 My Virtual Smile Consultation
Center For Orthodontic Excellence
We understand time is as precious as family, dreams, and love. Our COE team will help keep your social distancing productive with our incredible Virtual Smile Consultation experience: a convenient, comprehensive, and cost-free process. Learn the next steps in your obligation-free COE orthodontic journey, and only if treatment is needed, you'll decide when it is best for you to begin
My Virtual Smile Consultation is the same first step as an in-office visit during your Complete Smile Assessment, which offers:
Expert Insight. A virtual initial consultation, 3D imaging, a smile simulation and more to provide the clearest picture of all your orthodontic treatment needs.
Zero Cost. Important information about your orthodontic needs without any obligations. The COE team understands that these are challenging times for families, so we have made this process easy and completely complimentary.
Convenience of Your Own Home. Our virtual smile consultation begins with you and your family comforts in mind.
Exceptional Experience. Our team will bring together quality, convenience, and a beautiful smile for you. A smile of your dreams needs to be a part of a journey you'll love.
Call 609.799.4628 or email info@coesmiles.com to schedule My Virtual Smile Consultation today, Love Your Smile!