Posted 5/28/20
Dear COE Families,

Governor Murphy and the regulatory agencies have provided clearance to safely see all of our beloved COE families beginning Tuesday, May 26,2020. Our COE team is overjoyed to be able to see all of you and your beautiful smiles again.

As we look ahead to scheduling mutually convenient times,please know that you all are our top priority. The COE Team has been carefully preparing for this moment. To ensure that everyone can be seen in both an efficient and thorough manner, the COE Team will be reaching out to each of you to schedule your next appointment. Please note that we will triage appointments based on treatment urgency, and the COE Team will do our best to accommodate everyone while also being mindful that we have enough time to provide safe and proper orthodontic care for all.

Additionally, our protocols have changed to provide continued and safe orthodontic treatment. This pandemic has shown us the power and strength of a collective effort. We are grateful that all of our COE Families can come together again to work with these new procedures to permit everyone to receive the safe and proper care they deserve.

As we had noted in the post below, our office has changed significantly in the past months to incorporate robust and protective changes. These infrastructure enhancements will have a tremendous safety impact with all the below protocols.

BEFORE LEAVING HOME FOR YOUR COE APPOINTMENT:

1) Confirm that you and/or a loved one have not been sick (fever, runny nose, shortness of breath, cough, etc.) in the last fourteen days. If so, kindly please call (609-799-4628) or eMail (info@coesmiles.com) the office to reschedule.

2) Electronically complete documents required by the AAO for a safe orthodontic visit. These will be sent to you by eMail closer to your appointment. We thank you for filling them out.

3) Floss, brush, and use a mouth-rinse at home. The COE brushing station is closed until the guidelines change.

4) Grab your masks as you will need them to enter COE.

ARRIVING AT COE FOR YOUR APPOINTMENT:

1) When you arrive, please call or text 609-250-2553 (our dedicated Google Voice number for this pandemic) with your name, car make, and car color. A team member will respond to confirm your arrival and provide an ETA of when you can be brought in.

2) Enjoy the car time together until our COE Team is ready for you. Our reception area has closed until the guidelines have changed, however our restroom remains open should you need to use the facility.

3) When the team is ready for you, a COE Team member will come directly to your car.

4) The COE Team member will take your temperature and ask a few questions to make sure you we can safely see you. Please know that if you record a temperature of 100.4°F or higher, current guidelines prohibit us from seeing you or allowing you to enter COE. We recommend avoiding drinking hot or cold liquids and foods prior to your visit as they can influence your temperature reading.

5) Once cleared, the patient will put on their mask and will be escorted by the COE Team member into the office. Due to regulations on keeping the number of people down in the office, we are asking parents and all other family members to wait in the car. If you have questions for Dr. Shah, please feel free to pass those along to your dedicated COE Team member.

6) Feel free to call or text (609-250-2553) should you need any updates while your loved one is being seen.

DEPARTING COE AFTER YOUR APPOINTMENT:

1) We will provide an update of what happened at this visit and when the next visit is requested.

2) You are welcome to call or text (609-250-2553) to make your next appointment and address financial, logistical, or any other concerns prior to leaving.

3) We wish you safe travels back home and look forward to seeing you at your next COE appointment!

Our team remains committed to working for our COE Families, community, and global needs. Wishing everyone safety, health, and love in these times, and we are all grateful to be able to see each of you again. We stand by you and always ready to serve.

Love Your Smile,
The COE Team!
---
Posted 4/29/20
Dear COE Families,
Our thoughts and prayers continue to go out to all of those affected by these times and to all of you…our beloved COE Families. As we watch the world come together in incredible ways to emerge from this moment as safely as possible, the COE Team has been tirelessly working to prepare for a safe and structured reopening. We are excited to see all of you and your smiles again soon.
As you may already know, all healthcare facilities, including COE, are currently operating under NJ Governor Murphy's March 27, 2020 Executive Order 109, which suspends all elective surgeries and procedures as well as limits all treatment to emergency care only. It was projected at that time if the fight against COVID-19 were successful in flattening the curve, there would be a reopening date of April 20, 2020. This past Monday, April 27, 2020, Governor Murphy outlined six key principles and benchmarks in a plan called "The Road Back: Restoring Economic Health Thru Public Health." The COE Team was closely following announcements from Governor Murphy's plan as well as those from the NJ State Board of Dentistry and NJ Division of Consumer Affairs. At this time, all three entities have not provided a projected date permitting the reopening of healthcare facilities including our COE office. The COE team will reach out once we have been provided that date and permission to resume providing orthodontic treatment.
Our passion and commitment remains unwavering to your smile journey and needs. Please know that while you are in this "holding pattern," your orthodontic appliances are still positively working for you and in the very least maintaining what has been achieved in a healthy way. We stand ready to act and treat when it is safe for us all to return.
The COE Team has also diligently utilized this time to work on several critical matters on the behalf of our COE Families, which are outlined below. We proactively sought to make these changes to ensure that every measure was taken to safeguard our COE families when providing the care that you deserve.
COE Infrastructure Enhancements:
UVC lights added to all HVAC systems
Two, additional air filtration units with UVC lighting being added to COE
Professional testing to confirm COE exceeds recommended number of air exchanges per hour
Chair separation in reception area to maintain six-foot separation
Increased and deeper disinfection of commonly accessed areas
New barriers at select locations
COE Personal Protective Equipment (PPE) Improvements:
COE created and 3D-printed N95 masks (5-level filtration), which is submitted for a patent
3D-printed Face Shields
Increased the number of high evacuation suctions on site
UVC chamber to provide third level of sterilization of PPE
Patient eye protection, patient bibs, and use of nitrile gloves will continue to be in place
Patient Management:
Comprehensive and phased patient management plan created for safe reopening
System developed to triage all active patients to ensure scheduling of everyone is appropriately and efficiently addressed
Ongoing, in-office emergency support
Virtual appointments, virtual consultations, and virtual initial exam programs launched
Continual review of patient charts to monitor and identify any immediate needs
Implementation of Curb Side Deliveries: https://youtu.be/Z12vEoSclHE
Temporary retainers fabricated and delivered to patients who were to receive orthopedic appliances at this time
COE Contributions to the Global Cause:
Critical PPE donations to the NJ National Guard and Central Depot
Monetary donations to deeply affected and underprivileged areas
Sustained effort in getting PPE to hospitals in highly affected areas
Continued communication with physicians and leaders fighting on the frontline
We hope that the above provides further insight into how our team remains committed to working for our COE Families, community, and global needs. Wishing everyone safety, health, and love in these times. We stand by you and always ready to serve.
Love Your Smile,
The COE Team!
609-799-4628 | info@coesmiles.com
---
Posted 3/25/20
Here at the Center for Orthodontic Excellence, our commitment to protecting patient health and safety is without compromise. To this end, we are joining the collective effort in flattening the curve by encouraging all patients with routine orthodontic treatment to reschedule their appointments (609-799-4628 or info@coesmiles.com). The COE team will be seeing patients for essential and urgent matters during its normal business hours until it is determined that we can safely resume full and normal activity.
We embrace our role as orthodontic providers equally as much as members of society, and we recognize the significance of our responsibility to both ends. Our team has taken extraordinary measures to protect all those within the COE space while also being mindful of the resources we consume that are also needed by our allied healthcare providers on the frontline fighting COVID-19. The COE Team will continue to operate on insightful and reasoned decisions in these dynamic days with only the greater good as its focus.
These are unprecedented and unscripted times, and it is a moment to demonstrate the power of a global effort and show its true and remarkable strength. While social distancing can keep us from spreading the virus, love and compassion can freely flow across borders to bind us all more tightly than ever. Keeping all those affected in our thoughts and prayers and wishing everyone safety and health. One love all.
---
We'll Save Your Place In Line!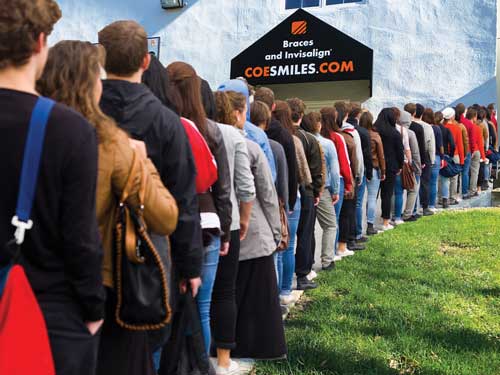 My Virtual Smile Consultation
Center For Orthodontic Excellence
We understand time is as precious as family, dreams, and love. Our COE team will help keep your social distancing productive with our incredible Virtual Smile Consultation experience: a convenient, comprehensive, and cost-free process. Learn the next steps in your obligation-free COE orthodontic journey, and only if treatment is needed, you'll decide when it is best for you to begin.
My Virtual Smile Consultation is the same first step as an in-office visit during your Complete Smile Assessment, which offers:
Expert Insight. A virtual initial consultation, 3D imaging, a smile simulation and more to provide the clearest picture of all your orthodontic treatment needs.
Zero Cost. Important information about your orthodontic needs without any obligations. The COE team understands that these are challenging times for families, so we have made this process easy and completely complimentary.
Convenience of Your Own Home. Our virtual smile consultation begins with you and your family comforts in mind.
Exceptional Experience. Our team will bring together quality, convenience, and a beautiful smile for you. A smile of your dreams needs to be a part of a journey you'll love.
Call 609.799.4628 or email info@coesmiles.com to schedule a Virtual Smile Consultation today!