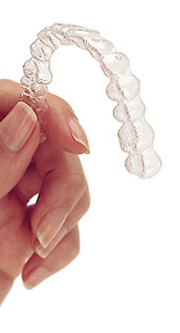 We are a Preferred Invisalign Provider!
Clear aligner therapy (such as Invisalign) is a way to get the beautiful straight teeth you've always wanted — without braces attached to the teeth.
What is it?
Clear aligner therapy uses a series of virtually invisible, removable, and comfortable trays that gradually move your teeth into the correct position. Treatment is programmed by Dr. Shah working directly with the company to direct the movements.
While clear aligner therapy can work for a variety of people, it is ONLY as safe and effective as the team prescribing the movements. This is where having a licensed, experienced orthodontist like Dr. Shah oversee the treatment is the critical part of getting the result you want.
Why would I want it?
Not only are the aligners virtually invisible, they are removable, so you can eat and drink what you want while in treatment. Plus, brushing and flossing are no problem.
How does it work?
You wear each set of aligners for 1-2 weeks depending on the stage of your treatment, removing them only to eat, drink, brush, and floss. As you change each aligner with the next in the series, your teeth will move little by little until they have straightened to their final positions.
You'll visit us about once every 6-12 weeks to ensure that your treatment is progressing as planned and to have any adjustments made. The total number of aligners varies from case to case depending on the movements needed. Everyone is different!